Croydon Judy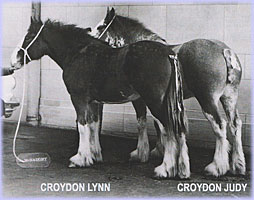 What do Alamar L.S. Helena, Alamar L.S. Kyra, Hatfield Lady Jewel, and Donegal Dr. Pepper all have in common? They all trace back to the great draft mare Croydon Judy. Dr. Pepper through his sire Donegal Midnight Lignite, the females are all direct maternal descendants of Croydon Judy.
Bred by Clydesdale centurion, the late Eddie Arnold of Shoal Lake, Manitoba; Croydon Judy was born in a time when the draft horse business was in the tank. However, this did not stop her from making an impact on today's Clydesdale breed. Judy's descendants, without exception, are good individuals with lots of substance and bone, that are great movers.
Croydon Judy had bred with success to Commander, a Bardrill Castle son, early in her breeding career. On one of his trips to the Royal, Commander had been spotted in Wreford Hewson's pasture by Eddie as a young foal. While horsemen with bigger budgets like to shop in show barns for their next winner, Eddie preferred to find the good ones before they were grown, fitted and shod. Croydon Judy bred to Commander produced two outstanding daughters which showed well – Croydon Isabel and Croydon Rosemarie. Each mothered a number of top foals.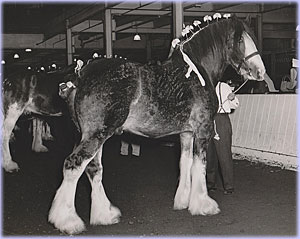 Commander
Croydon Rosemarie had four registered foals. Croydon Aristocrat and Croydon Benefactor went on to sire a number of top foals. Benefactor's show and breeding career began in the stable of Paul Cooper. Croydon Aristocrat's second home was with the Gordeykos at Willow Way. He was their senior breeding stallion as well as taking a place in their hitch for a number of years. Both stallions ended their breeding career with the Campbell family at Fawcett, Alberta.
Croydon Isabel had the misfortune of being born within 22 days of the great Kirklandhill Queen O' Carrick. Isabel was never able to get past Queen when they met at the Royal. Purportedly, these two big mares standing centre ring were a sight to see. Queen of Carrick set a record for Royal Championships that will likely never be equaled.
When Isabel and Queen of Carrick were doing battle at the Royal, Paul Cooper of Wisconsin was establishing a top stable of Clydesdales. While never able to negotiate Queen of Carrick's purchase, he was able to buy Doura Excelsior, her sire, from John Young in Scotland. Following some extended negotiations he was also able to secure possession of Croydon Isabel, who produced the big, good moving, roan mare, Excelsior's Isabel.
Live Oak Plantation of Ocala, Florida purchased several good mares from Paul Cooper. Excelsior's Isabel was one of them. Greg Gallagher was able to purchase Excelsior's Isabel from Live Oak. She carried the service of Ayton Perfection. Donegal Lady Iona, the finest Clydesdale foal I have ever seen, was born from this mating January 24, 1992.
In May of 1992, I returned to my home at Nokomis, Saskatchewan to establish a Clydesdale operation of my own. I had a handful of quality Clydesdales gathered up. However, there was a filly foal that I just had to have. That fall in Brandon, Greg Gallagher and I made a deal. Donegal Lady Iona came to Hatfield. Lady Iona was made Grand Champion Mare at Canadian Western Agribition in Regina by Tom Brewster of Scotland. Donegal Lady Iona was a prolific brood mare and a family favorite. Two sons have bred quite well – Hatfield Excelsior for John and Gert Clarkson of Idaho, and Hatfield Elite for Calvin and Jayne Martin of Strathclair, Manitoba.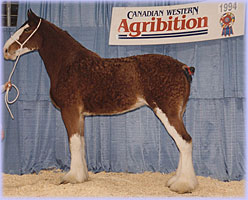 Donegal Lady Iona
Only one daughter of Lady Iona ever left the farm. This is Hatfield Splendor, which bred very well at Alamar Acres Clydesdales in Illinois. To date she has produced three World Champions.
Donegal Lady Iona's daughters usually stood 17.3 or better. They are well balanced. Hatfield Perfect Iona, her youngest daughter, performs on the lead of the Hatfield hitch of Clydesdale mares.
Croydon Miss Judy was purchased by Greg Gallagher from Eddie Arnold as a young mare. Sired by Aspiration, the black Bardrill Castle son whose dam was Balwill Mayflower, both Aspiration and his dam were Royal champions.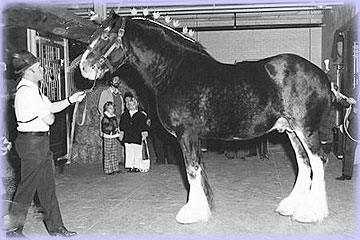 Aspiration
In the late eighties I was employed by Greg Gallagher of Donegal Clydesdales. When I got to Greg's there were a number of big, weighty mares. At that time there were three daughters of Croydon Miss Judy by Torrs Black Magic – Laura Lea Magic, Laura Lea Holly Magic, and Laura Lea Heather Magic.
Three of Croydon Miss Judy's granddaughters were broodmares at Hatfield. All were by different sires. Laura Lea Happy Magic, the longest producing of the Croydon Miss Judy daughters was the mother of all three of these granddaughters. The first to arrive at Hatfield was Donegal Hilda. She was sired by Love's Jane's Robbie, an Ayton Final Command son. A good moving, solid black mare, she had a 10 inch foot. Hilda raised a number of good foals at Hatfield. Several of her daughters remain in our possession. Paul was a son of Hilda and Maple Stone Stuart Maxton, which has made the most miles of all of Hilda's progeny. A former Champion Gelding at Denver, Paul was a star wheel horse, first for John King, then Cypress Creek Clydesdales, and now Double S Clydesdales.
Donegal Helen was another of the Laura Lea Happy Magic daughters to come to Hatfield. She was sired by the celebrated Greendykes Royale. Her grandson, Hatfield Front Runner, is a model black stallion that was herdsire at Hatfield for several years.
Donegal Felicity was the third Laura Lea Happy Magic daughter to arrive at Hatfield. This big blue roan mare was supported on tremendous bone and great feet. Felicity moved ever so free for a mare of her size. She has left us four good daughters – three black and one blue roan. The youngest is Hatfield Fantastic. A double cross to Croydon Miss Judy, she is sired by Hatfield Front Runner. Big drafty mares like their mother, it is Hatfield Lady Jewel who has had the greatest show ring opportunities. She was Supreme Champion Draft Horse at the 2013 Keystone International in Harrisburg, Pennsylvania, for Kim Smith of Westwind Farms, Oakville, Ontario.